Minimal, yet powerful CMS for small SaaS companies
Small SaaS companies around the world use Spinal to level up their content marketing strategy. How do they use it?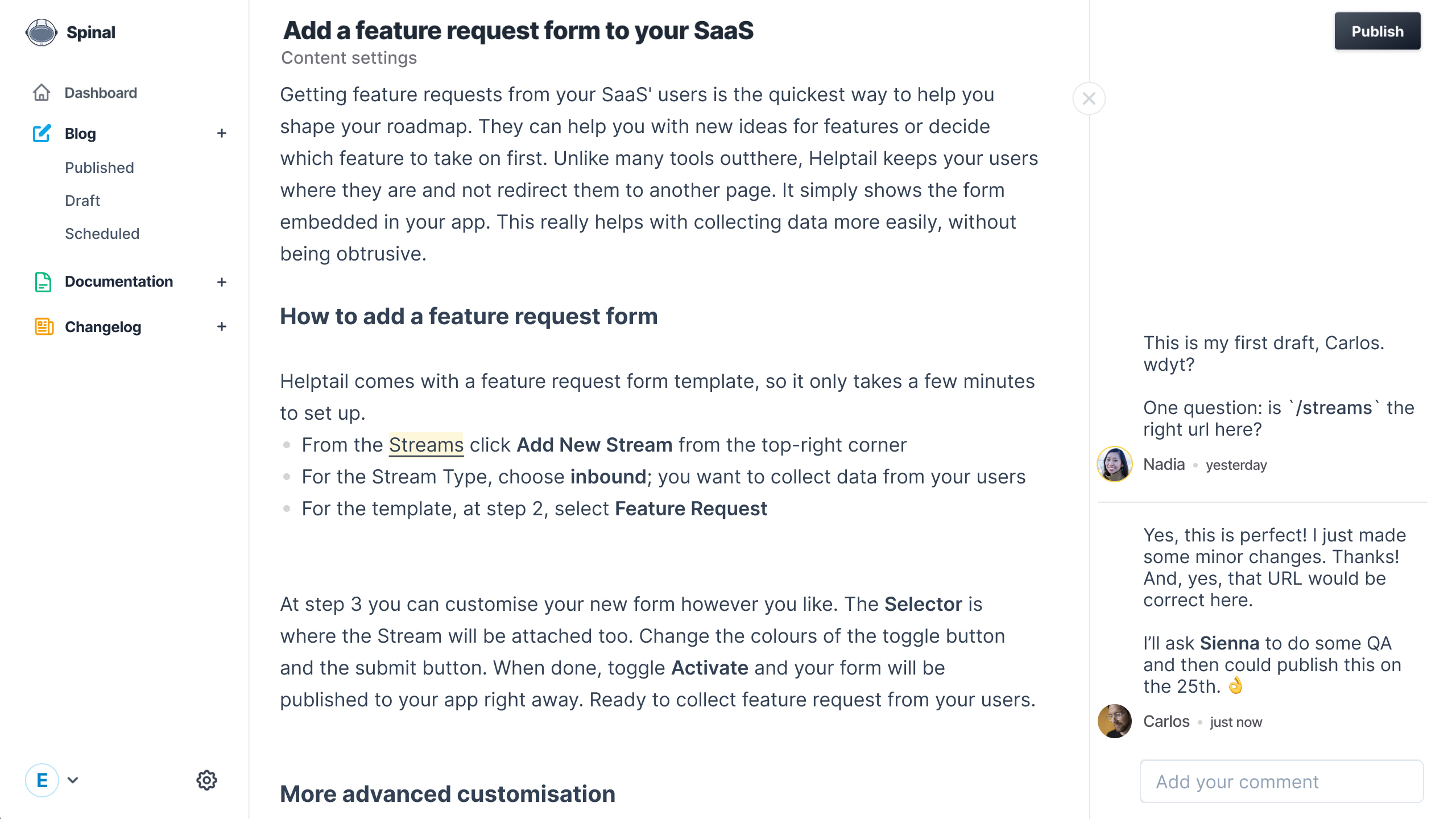 Hundreds of SaaS companies around the world effectively use Spinal to create, schedule and publish on their static site's marketing content with their entire team. Some teams are small with two people, others are bigger with many dozens working on different parts of their marketing site. But no matter the team size, they all work with the same goal in mind: provide their (prospect) customer base with quality and useful content. They choose Spinal because it's designed, from the ground up, with content marketing teams in mind.
Built for static site generators
At Spinal we strongly believe that choosing a static site generator (SSG) is the best option for any content marketing site. It is by definition blazing fast to load, and any SSG allows you to create whatever creative thing you can come up with. And with the power of Spinal at your back, you can create useful content with your team in no time.
Invite your entire team
The best content is written in collaboration with your team. No matter if you hire your first content writer, or have an established team of many, with Spinal it's easy to invite them all.
A workflow to know where content is at
With Spinal's Workflow feature you see at a glance where your content is at. From idea, to draft, to QA and then published.
Set permissions
Not every team works the same. So in Spinal, you can set permissions per team member. Some can only write content, others can also publish, and maybe you have people responsible for quality assurance. In Spinal you can easily give each member the permissions they need.
Limit access to content types
Besides being able to set permissions, you can also set who has access to which content types. Some team members might only need to write for your blog, others only need to expand your documentation and one might be in charge of updating your product's changelog. Making sure everyone has only access to some content, helps to prevent mistakes.
An easy to use editor
Some editors are just overwhelming, with Spinal's editor your content is the protagonist at all times. Making sure you can focus on creating the best possible content. Need some formatting, highlight the text and choose from the toolbar.
Get feedback and leave comments
Collaboration happens, where it needs to happen. Get feedback. Give praise. Highlight a typo. With Spinal it's easily done. Create the best possible content together with your entire team.
Schedule content in advance
The best content marketers know to keep their product top-of-mind with their customers. That's why they create a content pipeline by scheduling content in advance. With Spinal, it's super easy to automatically publish your blogs, but also your documentation after a new feature has been launched. And of course, do not forget to schedule that changelog item.
Craft your best content. Today.
Create, schedule and work together with your entire team on content for your static marketing site. Start your free trial today.
Start Free Trial