Alternative to Forestry
Spinal is an alternative to Forestry.io. Forestry was discontinued in March 2023, so many moved to the best git-based CMS for content marketing: Spinal.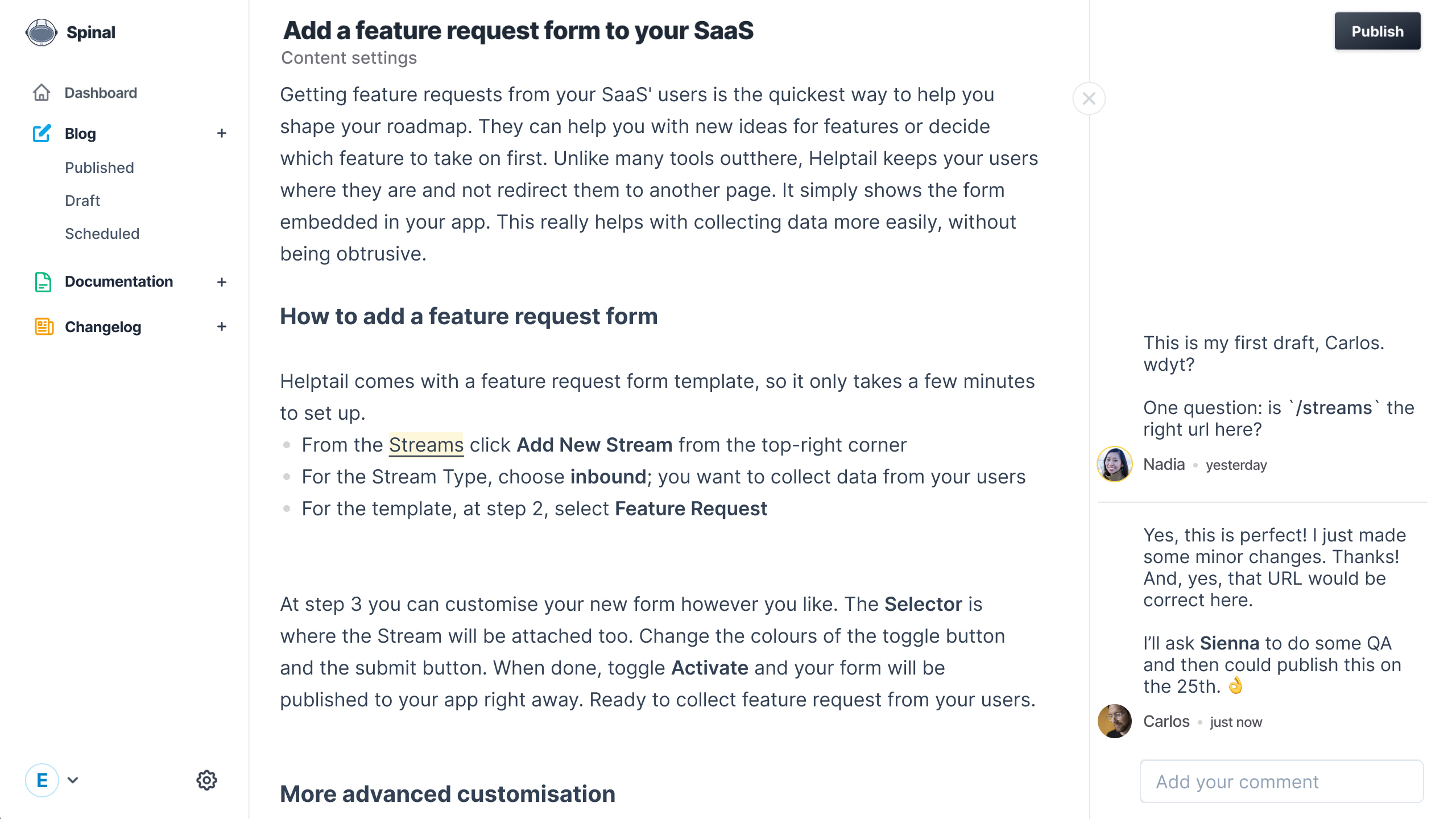 Forestry is, just like Spinal, a Git-based CMS and started in 2016. Forestry is a solid product used by companies around the world.
But as they are moving in a new direction, the product wss discontinued (in March 2023), meaning it's no longer in active development.
Feature-rich, but less for content marketing
Over the years Forestry built a rich feature-set. From a solid markdown editor to a media library. Forestry ticked most of the boxes of any good CMS. But if you wanted more collaborative features to improve the content your team creates, you were out of luck.
Spinal vs Forestry feature comparison
Spinal is designed with SaaS teams in mind. They are looking for a product they can rely on for years to come, instead of switching to another product that is still in development.
| | Spinal | Forestry |
| --- | --- | --- |
| Price | $29/month | Starts at $29/month |
| Set up | Very easy | Easy |
| Collaborators | 10 | 5 (more at higher plan) |
| Scheduling | | |
| Kanban workflow | | |
| Fine-grained Access | | |
| Self Host | | |
| Built for SSG | | |
| Git-based | | |
| Rich Text Editor | | |
| Calendar view | | |
| Outputs Markdown | | |
| Edit Lock | | |
| Comments & Notes | | |
| Image Support | | |
| Version History | | |
| Active Development | | |
| Compare | Compare pricing | Compare pricing |
Found a mistake? Get in touch.
The UI is so clean and intuitive. Pure bliss compared to other CMS' we've tried.
Is Spinal Git-based?

Yes! Just like Forestry was. Setting up Spinal is as simple as connecting your GitHub repo and you are good to go.

How many people can I add to my Spinal account?

10! The past years, ten members proved to be enough. You can always invite more if needed though. Get in touch with support for the details.

Does Spinal have support for images?

Yes! Just drag/drop any image into your content or frontmatter and it gets pushed to your GitHub repo.

Does Spinal supports my favourite static site generator?

Proably! Spinal supports the most popular static site generators in the industry. See them all.

You are not suddenly going to work on another product, are you?

Ever since we privately launched in early 2022, Spinal has been growing steadily. We are just getting started.
We'll move you from Forestry to Spinal. For free!
While getting started with Spinal is as easy as connecting your GitHub repo, Spinal provides a concierge service to every new (trialing) customer. Maybe you want to go over some settings? Or get help inviting your team? All at no extra charge. Start your 5-day free trial and contact support for all the details.
How does Spinal compare to other alternatives?
Get started with a CMS today, that is still available tomorrow
Create, schedule and work together with your entire team on content for your static marketing site. Start your free trial today.
Start Free Trial